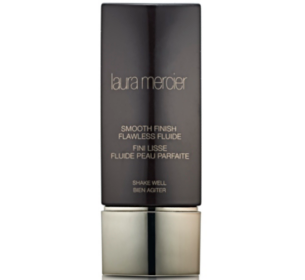 Smooth Finish Flawless Fluid is a long-wear oil-free foundation that will blur the line between real skin and makeup; making is the most natural looking, light-weight coverage. All you have to do is shake and tap to activate.
PRODUCT TECHNOLOGY:
This revolutionary bi-phase, two part formula is designed to deliver the most natural looking colour and lightweight coverage. Colour true pigments rest at the bottom of the package while reflective waters (Hydro-Brilliant Technology) float to the top. Vigorously shaking the package before each use ensures the pigments blend with the reflective waters to create fresh colour every time.
To activate: with each use shake vigorously for a minimum of 10 seconds and tap several times at the end of the package by the shade label.
Dispense onto back of your hand and apply to clean skin with Laura's Foundation Sponge or fingertips. For best results, use with your preferred Laura Mercier Foundation Primer.
Once you shake and tap to activate the formula, gently release the cap. You may experience a surge of product when dispensed. This is normal for a bi-phased formula. If the formula appears separated, it has not been shaken long enough. Just put the cap back on and shake more vigorously.
do you feel fabulous today?