Whenever these big award shows come around, since I was a little girl, I always had to see what the stars were wearing when they would step onto the red carpet to see what they were wearing (this was right before Joan Rivers had asked her infamous question, "Who are you wearing?") I was also just as amazed by the makeup and hair. What can I say, I love fashion and beauty. Not much has changed since. Then came the actual award show. I always like watching them all. The whole award show saga captivated me. Clearly, I'm captivated by glamour. There isn't anything wrong with being glamorous, and loving glamour, ;).
So, for tonight's Golden Globes of 2016, here are my picks for best makeup. Bring on the glam!
See, this would've been posted sooner, if I hadn't been distracted by the Globes. Oh, well. It's up now.
Jennifer Lawrence
Photo courtesy of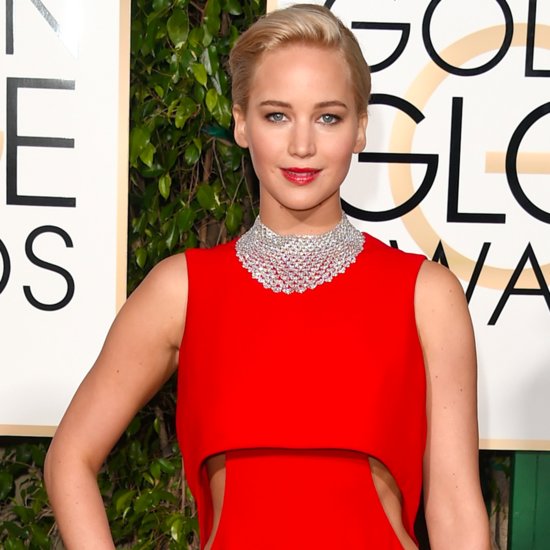 Jennifer Lawrence
Photo courtesy of popsugar.com
Jennifer Lawrence stuns in bright red in Dior. She always looks gorgeous in Dior. Love the red lip to match her red dress. Is it really any surprise that she is on here again, or any best dressed list? When doesn't she look good? Like, never! Dewy skin, again, the red pout and lashes.
Jennifer Lopez
Photo courtesy of etonline.com
Jennifer Lopez
Photo courtesy of etonline.com
Can I first say, those jewels! Those 240 carats Harry Winston diamonds. Whomever, said diamonds isn't a girl's best friend, clearly didn't know how to please her. Okay, enough about fashion. I love the pairing of the bright yellow, sexy, feminine, classic

Giambattista Valli cape dress paired with a bold, deep red pout, dewy complexion and lashes that Jennifer Lopez is wearing. It's nice to see her stun in this entire look.
There are of course, Julianne Moore, Kate Winslet, Lady Gaga, Taraji P. Henson to name a few more who looked stunning, however, these two Jennifers' just rocked it!
Is there a
sweepstakes
contest or giveaway you would like to collaborate with Stacey Camacho? Email staceycamacho24@gmail.com
Are you interested in being A Guest Blog Post? Hit Stacey up with an email: staceycamacho24@gmail.com
Would you like a product review or interview on Face by Stace blog? Send Stacey an email at staceycamacho24@gmail.com


Do you want to advertise on Stacey's blog, Face by Stace? Send your email to staceycamacho24@gmail.com
Do you have beauty question? Hit me up at staceycamacho24@gmail.com

Looking forward in hearing from you!
#jlo #jenniferlopez #jlaw #jenniferlawrence #goldenglobes #goldenglobes2016 #beauty #makeup