One thing we can say white is dominating the red carpet at the 88th Academy Awards tonight. As you are going to see, this is definitely difficult for me to pin it down to just a few best dressed fashion.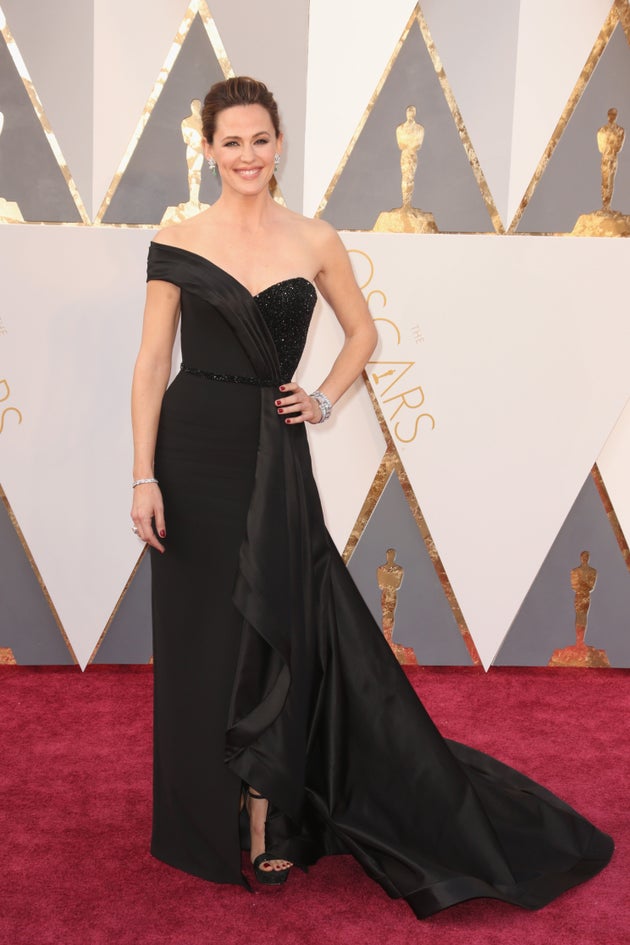 Jennifer Garner

Jennifer Garner

Jennifer Garner in Atelier Versace
Jennifer Garner really brought it. Her entire look is on point. From the style of her Versace gown to her makeup, hair, jewelry - it's fabulous. She looks so fabulous.
Daisy Ridley
Daisy Ridley in Chanel
I love her shoes. Daisy's wore a sparkling dress to her first Oscar's award show. It's a beautiful Chanel gown, and Daisy wears it so well.
Tina Fey
Tina Fey
I love it all. I love that royal purple and jewels on her. Tina, you nailed it with this look. From head to toe.
Chrissy Teigen and John Legend
Chrissy Teigen in Marchesa
Chrissy Teigen put her baby bump on display with her
exquisitely detailed, red beaded gown by Marchesa.
Saoirse Ronan

Saoirse Ronan in Calvin Klein
Saoirse Ronan wore a custom Calvin Klein representing Ireland in her beautiful, green gown with mix match earrings to also represent her home land. Her makeup looks so beautiful.
Charlize Theron
vulture.com
Charlize Theron
okamgazine.com
Charlize Theron in Dior
Charlize is looking red hot in her Dior gown.The plunging neckline, as well as the colour looks so amazing on her.
Plus, she is wearing
$3.7 million worth of diamonds.
Brie Larson
eonline.com
Brie Larson
Brie Larson in Gucci
Oh, Brie, I'm so glad you chose this colour. You really should be wearing the hue more often. It's a slip dress that looks so beautifully.
Alicia Vikander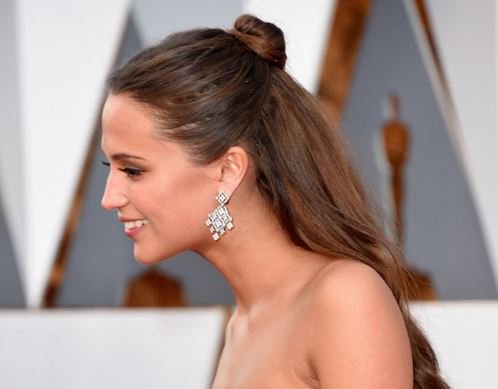 Alicia Vikander
Alicia Vikander
in custom Louis Vuitton
How gorgeous is Alicia?! She looks like Belle from Disney's Beauty and the Beast going to the ball. Very princess-like gown. Love this yellow, sparkly custom Louis Vuitton dress on Alicia. The jewels, hair, makeup really make this look an absolute stand out.
Alicia Vikander on all those Belle comparisons at the Oscars,
"That was my thought!"
Lady Gaga
Lady Gaga

Lady Gaga in Brandon Maxwell
Underneath Lady Gaga's gown is pants. It's becoming such a common thing. She looks gorgeous with her hair, makeup and gown.
Priyanka Chopra
eonline.com
Priyaank Choprain Zuhair Madrid
Priyaank is wowing in a sheer, strapless, lace dress covered in floral print. How about those
$3.2 million worth of Lorraine Schwartz diamonds completes her look.
Olivia Wilde
eoline.com
Olivia Wilde in
Valentino Haute Couture
Cleavage baring, white gown, Olivia Wilde in Valentino Haute Couture stuns. This is one of the few gowns that I've seen Olivia wear that I've really liked from the colour to the style of the dress. Doesn't Olivia look graceful?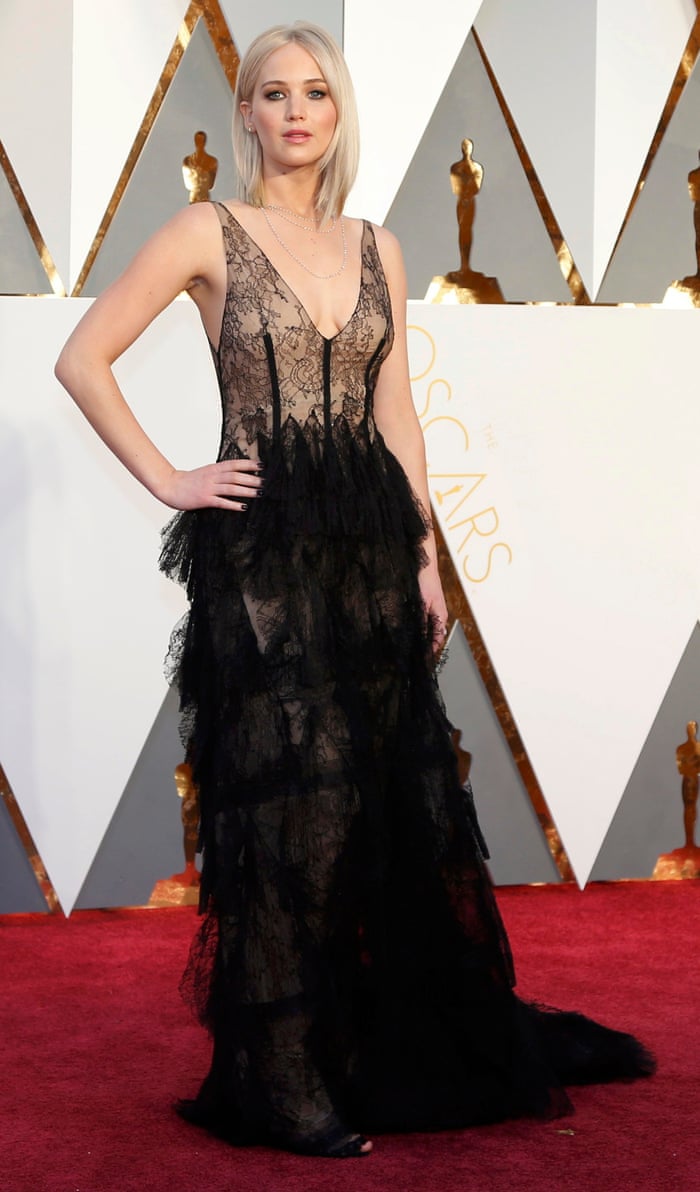 Jennifer Lawrence
Jennifer Lawrence

Jennifer Lawrence in Dior
When does Jennifer Lawrence not look fabulous when walking the red carpet at any award show? She's the face of Dior. Is it really surprising that she would opt for a haute couture stunner from the fashion house? Come on. Always shining Ms. Lawrence.
This is such a long article, I suppose this is what happens when everyone is on point with their fashion.
I'm Stacey Camacho, thank you for reading. Until next time!
Connect with Me:
Is there a
sweepstakes
contest or giveaway you would like to collaborate with Stacey Camacho? Email staceycamacho24@gmail.com
Are you interested in being A Guest Blog Post? Hit Stacey up with an email: staceycamacho24@gmail.com
Would you like a product review or interview on Face by Stace blog? Send Stacey an email at staceycamacho24@gmail.com
Do you want to advertise on Stacey's blog, Face by Stace? Send your email to staceycamacho24@gmail.com
Do you have beauty question? Hit me up at staceycamacho24@gmail.com

Looking forward in hearing from you!
#jenniferlawrence #jennifergarner #brielarson #aliciavikander #ladygaga #tinafey #fashion #mode #moda #charlizetheron #chrisleyteigen #saoirseronan #style #daisyridley #dior #chanel #altelierversace #marchesa #valentinohautecouture