Just in case you need to make it through the final stages of winter, these beauty products will help you out. :)
honestbeauty.com
Honest Beauty
Crème Blush in Truly Thrilling ($22, honestbeauty.com)
When it comes to winter, change up your blush by swapping your powder blush with a cream blush. Not only adds rosiness, it also adds moisture to your skin. Apply cream blush after you have primed, foundation, concealer, and before you powder. Always apply creams and liquids before you powder. It sets the makeup, meaning the creams and liquids remain in place.
thebay.com
NUXE Reve De Miel Lip Balm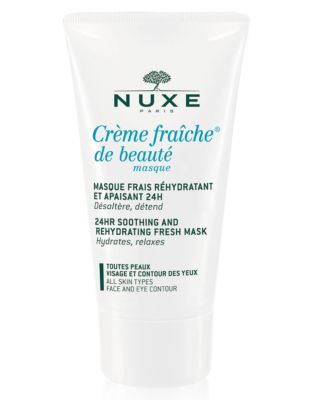 thebay.com
NUXE

Creme Fraiche Mask ($30,

www.thebay.com

)
biotherm.com
Biotherm BioMains Hand Cream Age Delaying Hand & Nail Treatment

(C$31 100ml,

www.biotherm.ca

)
Rocky Mountain in Vanilla Coconut (

www.rockymountainsoap.com

)
Bath Salt ($5.25)
Body Butter ($14.50)
Body Lotion ($20.00)
Revitalizing Face Polish ($16.75)
Travel HairCare ($18)
Body Oil ($15.50)
Body Wash ($13)
Hair Shampoo ($14.75)
Hair Conditioner ($14.75)
Lip Butter ($5.25)
Bath Bomb ($5.25)
Foaming Wash ($15)
Bath Salt ($20)
Shimmer Lotion ($12)
Organic Sugar Scrub ($24)
Lamb's Soapworks
Body Butter in Coconut ($16)
Bath Bombs in Oatmeal Honey ($5)
Emulsified Scrubs
in
Maple Walnut ($15.50)
Soap Bar in
Almond Milk, Oatmeal & Honey ($7)
Lip Balm in
French Vanilla Lip Balm and
Coconut Lip Balm ($4.25 each)
fekkai.com
Fekkai Essential Shea Riche Moisture Masque ($25, www.fekkai.com)
I'm Stacey Camacho, thank you for reading. Until next time!
Connect with Me:
Is there a
sweepstakes
contest or giveaway you would like to collaborate with Stacey Camacho? Email staceycamacho24@gmail.com
Are you interested in being A Guest Blog Post? Hit Stacey up with an email: staceycamacho24@gmail.com
Would you like a product review or interview on Face by Stace blog? Send Stacey an email at staceycamacho24@gmail.com

Do you want to advertise on Stacey's blog, Face by Stace? Send your email to staceycamacho24@gmail.com
Do you have beauty question? Hit me up at staceycamacho24@gmail.com

Looking forward in hearing from you!