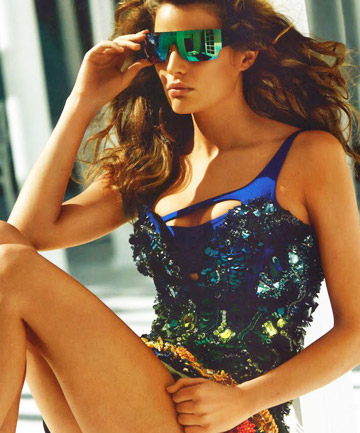 totalbeauty.com
Imperfect Faux Tan
Christina Aguilera

Lindsay Lohan
pinterest.com
Eva Longoria
pinterest.com
Don't we all just hate the streaks that sometimes come with you apply your self-tanner? How about certain self-tanners that turn orange, because the level of DHA can cause your skin to turn orange.
How about the odor?

The odor is due to a

chemical

reaction between the DHA molecules and the top layers of your skin.
Don't worry,
Let's get right down to it, so you can have the perfect self-tan.
Step 1: Exfoliate
Begin by removing the dead skin, it
creates an even, smooth canvas. If the canvas isn't smooth, what happens is your self-tanner applies unevenly. Basically, the surface is like a wave. Your self-tanner will then sit on your skin and not in between
dead skin cells.
Step 2: Shave
It's so important to shave and have an even smoother canvas, so your tanning lotion doesn't sit in between the hairs. It helps to prevent streaks.
Step 3: Moisturize
When you shave and exfoliate, skin becomes sensitive. Pores are open, so you need to moisturize your skin. Wait a few minutes for the moisturizer to penetrate into your skin.
Step 4: Applying Self-Tanner
Once skin has been nourished, apply your self-tanner. Initiate the application by spreading the formula all over your body.
If you have any error in application, use a natural bleecher, such as lemon juice or lime juice to remove the mistakes. Once error has been removed, dab on some water to eliminate excess product. Pat dry.
Also, moisturizing prevents uneven colour. When moisturizing any dry spots, it prevents the tanning lotion from absorbing more in one particular spot.
Step 5: Set the Faux Tan
Talc is an ingredient foudn in some powders/ It abosrbs moisture. So a talc-free powder or a settiong powder will set your tan in place.
Step 6: Prolong Your Tan
If you want your faux tan to last, smear on sunscreen. Faux tanning from a lotion dries out the skin. When skin dries out your tan (even a real tan from the sun) fades. To prevent fading you've got to keep your tan hydrated.
I'm Stacey Camacho, thank you for reading. Until next time!
Connect with Me:
Is there a
sweepstakes
contest or giveaway you would like to collaborate with Stacey Camacho? Email staceycamacho24@gmail.com
Are you interested in being A Guest Blog Post? Hit Stacey up with an email: staceycamacho24@gmail.com
Would you like a product review or interview on Face by Stace blog? Send Stacey an email at staceycamacho24@gmail.com

Do you want to advertise on Stacey's blog, Face by Stace? Send your email to staceycamacho24@gmail.com
Do you have beauty question? Hit me up at staceycamacho24@gmail.com

Looking forward in hearing from you!
#makeup #bauty #beaute #maquillage #selftan #perfectselftan