New Years Eve is just around the corner, which means you should look your best. I can help you with that. Below, are the must have products you will need to be picture perfect for the evening.
Photo courtesy of chanel.com
Prime Time
This long-lasting mattifying makeup primer will keep your makeup intact. It has kept mine intact on the hottest day when I was in Dominican Republic. Use a foundation brush, instead of your fingers to prevent any separation of the makeup. It's a lotion to moisturize your skin, as well as a primer. It's oil-free.
Chanel Le Blanc de Chanel Multi-Use Illuminating Base ($45, www.chanel.com)
Photo courtesy of maccosmetics.ca
Eye Primer
I don't use an eye primer for long-lasting eye makeup. I refer to my face primer for that by applying it on my eye lids. What I do rely on for my eye primer is to make my eye makeup pop, so it's more vibrant. So, if I'm looking for my eye makeup to pop, I would substitute my face primer for eye primer. This eye makeup primer works extraordinarily well. So, let that eye makeup start popping.
MAC Prep + Prime 24-Hour Extend Eye Base (C$26, www.maccosmetics.ca)
Photo courtesy of beenefitcosmetics.com
Photo courtesy of sephora.com
Photo courtesy of lorealparis.ca
Hello, there, lashes!
Of course, you need mascara. You've got to have beautiful lustrous lashes. I like a mascara that delivers that look of falsies. I have three top choices. Don't ask me to decided, because I can't, and if you've tried any of these mascaras, you will know exactly what I mean.
Want clump-free lashes? Check out my article on how you can get clump-free lashes, so your lashes can shine like the rest of you.
Benefit they're real lengthening mascara ($31, www.benefitcosmetics.com)
Dior Diorshow Mascara (C$34, www.dior.com)
L'Oreal Paris Voluminous Mascara in Black (www.lorealparis.ca)
Photo courtesy of essie.com
Photo courtesy of crabtree-evelyn.com
Nail Polish
What is more perfect of a time than New Years to go all sparkly. Yes, I'm one of those people who likes sequines, sparkles and shiny stuff in a non-over top way. Anyway, enough about me, let's back to sparkles. Or go bright! Be bright. Bright and/or sparkly.
Crabtree & Evelyn Nail Lacquer in Raspberry ($8, www.crabtree-evelyn.com)
Essie in Starry Starry Night ($8.50, www.essie.com)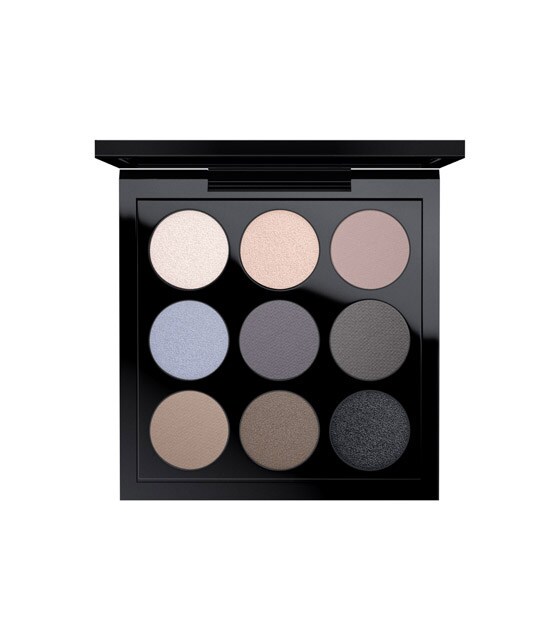 Photo courtesy of maccosmetics.ca
Photo courtesy of narscosmetics.ca
Gotta Smoke Up Those Eyes!
It's New Years, why not go all out?! Go for a traditional smoky eye, or a more subtle smoky eye and add some sparkle in your eye makeup.
MAC Eye Shadow x 9 in Navy Times Nine (C$48, www.maccosmetics.ca)
NARS NARSisst Matte/Shimmer Eyeshadow Palette ($65, www.narscosmetics.com) Limited Edition
Photo courtesy of sephora.com
Eye Liner
Whether you are a beginner or an experienced makeup artist, or if you are right handed or left handed, this eye liner delivers effortless results. It will change your life. Receive the best eye liner with simple, quick and effortless deliverance with great results.
Sephora Smart Liner (C$18, www.sephora.com)
Photo courtesy of purminerals,com
Lipstick
Receive full coverage lipstick that keeps lips hydrated. It's really an anti-aging lipstick tghat increases renewal for a smoother, younger-looking pout, conditions the skin for dewy, kissable lips. A bold lip is oh, so hot. Paraben-free. Gluten-free.It's a lipstick that delivers long-lasting colour that doesn't dry out your lips with colour in tact.
Photo courtesy of sephora.com
Pur Minerals Chateau de Vine Mineral Lipstick ($18, www.purminerals.com)
Makeup Setting Spray
Top it all off by setting your makeup. It's light-weight, lasting up to sixteen hours!!
Urban Decay All Nighter Long-Lasting Makeup Setting Spray (C$36, www.urbandecay.com)
Is there a
sweepstakes
contest or giveaway you would like to collaborate with Stacey Camacho? Email staceycamacho24@gmail.com
Are you interested in being A Guest Blog Post? Hit Stacey up with an email: staceycamacho24@gmail.com
Would you like a product review or interview on Face by Stace blog? Send Stacey an email at staceycamacho24@gmail.com


Do you want to advertise on Stacey's blog, Face by Stace? Send your email to staceycamacho24@gmail.com
Do you have beauty question? Hit me up at staceycamacho24@gmail.com

Looking forward in hearing from you!
#beauty #nye #makeup #urbandecay #dior #benefitcosmetics #purminerals #sephora #sephoracollection #nyemakeup #newyearsmakeup #newyearsevemakeup #chanel