Cleansers are designed to prep the skin, open up the pores, and even clean your skin. There are so many different types of cleansers that are designed for all types of skin and skin conditions. Below are cleansers for each skin type and condition.
Oily Skin
If you have oily skin cleansers that help to remove oil from the pores, as well as to clear up acne. Blemishes and acne differs. So, some cleaners are designed to provide additional skincare needs , such as to help remove acne. Check out the cleansers for oily skin above.
For more on oily skin, please check out my article on oily skin:
REN Rosa Centifolia 3-in-1 Cleansing Water (C$31, www,sephora.com)
Photo courtesy of sephora.com
Dry Skin
Dry skin lacks moisture, which is where a cleansers come in handy. Some cleansers even offer moisture barrier in them.
Normal Skin
Well, aren't you lucky! You can use any cleanser your heart desires. If I were you, to which I am, as I too have normal skin, I use products for my skin conditions.
Skin Conditions
Photo courtesy of philosophy.com
Philosophy Purity Made Simple (C$29, www.philosophy.com)
Dehydrated Skin
Dehydrated skin lacks hydrateion, not moisure. If you cannot find cleansers for your dehydrated skin, you use products for normal to dry skin, as it supplies the right amount of hydration to your skin.
For more on dehydrated skin, please refer to Skin Care Lesson: Dehydrated Skin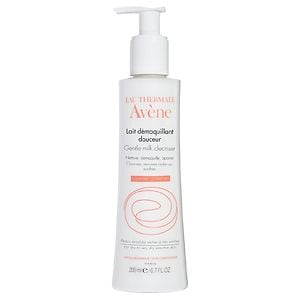 Avene Gentle Milk Cleanser (C$20, www.avene.com)
Photo courtesy of avene,com)
Sensitive Skin
Does your skin break out? Does your skin feel tight when trying out products? Does your skin turn red when trying out products or when skin has been exposed to hot water? If you have answered yes to one or all of these questions, then you have sensitive skin.
For more on sensitive skin, please check out:
Sensitive Skin!
Is there a
sweepstakes
contest or giveaway you would like to collaborate with Stacey Camacho? Email staceycamacho24@gmail.com
Are you interested in being A Guest Blog Post? Hit Stacey up with an email: staceycamacho24@gmail.com
Would you like a product review or interview on Face by Stace blog? Send Stacey an email at staceycamacho24@gmail.com


Do you want to advertise on Stacey's blog, Face by Stace? Send your email to staceycamacho24@gmail.com
Do you have beauty question? Hit me up at staceycamacho24@gmail.com

Looking forward in hearing from you!
#beauty #skincare #skin #dryskin #oilyskin #normalskin #dehydratedskin #sensitiveskin