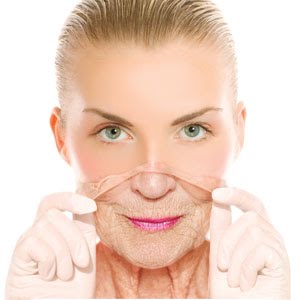 Photo courtesy of:
Anti-aging products repelled me, like French fries being placed in front of me. The only fries I would ever eat is sweet potato fries. Otherwise, I can't stand them. I wouldn't have any of it. It wasn't until this year, that I had thought I shall try it. As I was looking for the products, I was thinking, "I'm in my late 20's, and I'm sub-cumming to anti-aging products. I don't even use eye cream, even I should have begun using it in my early 20's, even though I have really good skin. No dark circles, no bags, no anything. To have to use these formulas, man, I'm getting old." As it turned out, it wasn't as bad as I had thought it would be. I have all the knowledge on anti-aging products, however the thought of using them was a sign to me that I was getting old. How wrong was I?
So, here I am dabbling into anti-aging products, so when I'm sixty I'm going to look forty, kidding. Well, I hope not. Thankfully, I have inherit good genes from both sides of my family. So, it really comes down to maintain my good skin. I first began with ingredients, such as caviar, gold, bamboo and pomegranate. Caviar and gold. The luxurious ingredients are amazingly on the skin, even for very sensitive skin. It feels comfortable on my skin. Bamboo operates in the same manner as aloe. The difference is, is that bamboo has a bit more benefits. It soothes the skin, like aloe. Making it excellent for sunburns, seeing results quickly. Removing the pain of a sunburn. Removes the redness, like aloe. The majour difference is that, bamboo also strengthens elasticity in your skin. Deeply moisturizes the skin, like aloe, but with a bit more moisture that seeps into your skin, helping to prevent your skin from aging. Pomegranate help to restore radiance in your skin, so it helps to restore collagen. Seaweed deeply moisturizes your skin. What you may not know is that, it's also an excellent anti-aging ingredient. A seaweed body and/or facial mask is rejuvenating. Your face and body will thank you. A seaweed body wrap, like a seaweed facial is ah-mazing. I may not always using the anit-aging products on the regular, however they don't repel me anymore. if you are anything like me, who has repelled from these kind of beauty products, I'm telling you, your skin will truly thank you for taking that step into the anti-aging products world. The age when a lady should think about eye creams is twenty-one. As a teen, I would recommend not using anti-aging products until you're in you're twenties. We begin to age in our early twenties internally, generally. We then begin to age externally in our thirties, generally. It really depends on genetics.
to this day, French fries still repel me. I don't have any desire to eat them, unless they are sweet potato fries.
In regards to which products, other ingredients, along with other techniques to maintain a youthful appearance, for example exercising and why it's not only important internally, but also important externally, will appear on another blog post/article.
Is there a
sweepstakes
contest or giveaway you would like to collaborate with Stacey Camacho? Email staceycamacho24@gmail.com
Are you interested in being A Guest Blog Post? Hit Stacey up with an email: staceycamacho24@gmail.com
Would you like a product review or interview on Face by Stace blog? Send Stacey an email at staceycamacho24@gmail.com


Do you want to advertise on Stacey's blog, Face by Stace? Send your email to staceycamacho24@gmail.com
Do you have beauty question? Hit me up at staceycamacho24@gmail.com

Looking forward in hearing from you!